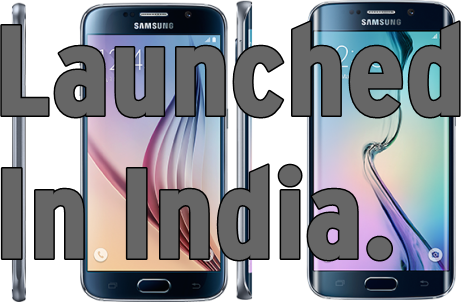 Samsung Galaxy S6 and Galaxy S6 edge were launched in India few hours back and this post is all about the India launching, pricing and availability.
Both of them devices are the current flagships for the market leader- Samsung, with brighter and more responsive screen, drastically improved camera sensor ,DDR4 RAM and in all this I didn't even mention the processor- the best in class Exynos 7420 (64 bit with 14nm processor) which is reportedly giving an Antutu score of 70k+.
 See here for the first impression of S6 and S6 Edge
With Corning Gorilla Glass on both sides- front and back this thing is pretty safe from scratches, and the material that is used to construct the device is lightweight fabric used in the conditioning of airplanes, to impress people that were disappointed with galaxy S5's plastic design.

With a promising set of batteries, that claim to give us a 4 hour juice just with 10 minutes of charging.
Galaxy S6 and S6 edge both are innovative masterpiece with metal edges and glass back and now finally they have set foot in the Indian subcontinent- with availability form 23 March (pre-orders) and the devices would be available for sale from 10April.
Availability from 10April, pre-orders from 23 March
Pricing details are as follows, both of them have 3 storage based variants- 32GB, 64GB and 128GB. S6- 32GB for Rs 49,900, 64GB for Rs 55,900 and 128GB for Rs 60,900.S6 Edge -32GB for Rs 58900, 64GB for Rs 64000 and 128GB for Rs 70,900.

10k difference in same storage variants of S6 and S6 Edge

With such high price, it's highly unlikely to be a major hit in Indian when compared to the likes of xiaomi, yureka and micromax. Difference of 10,000 in the prices of S6 and S6 edge seems pretty drastic but when new technology is concerned- people will go for S6 Edge.

See here for the specs comparison- S6 vs S6 Edge vs One M9

These devices are very critical to Samsung, as previous quarter result showed us declining sales and micromax rising form the past, with market share dropping very minute until Samsung decides to do something that can save it from the Chinese companies' attack.

If you have any questions regarding this post, feel free to ask us down the comments.

Buy Now

Buy Samsung Galaxy S6 on Amazon

Buy Now

Buy Samsung Galaxy S6 Edge on Amazon