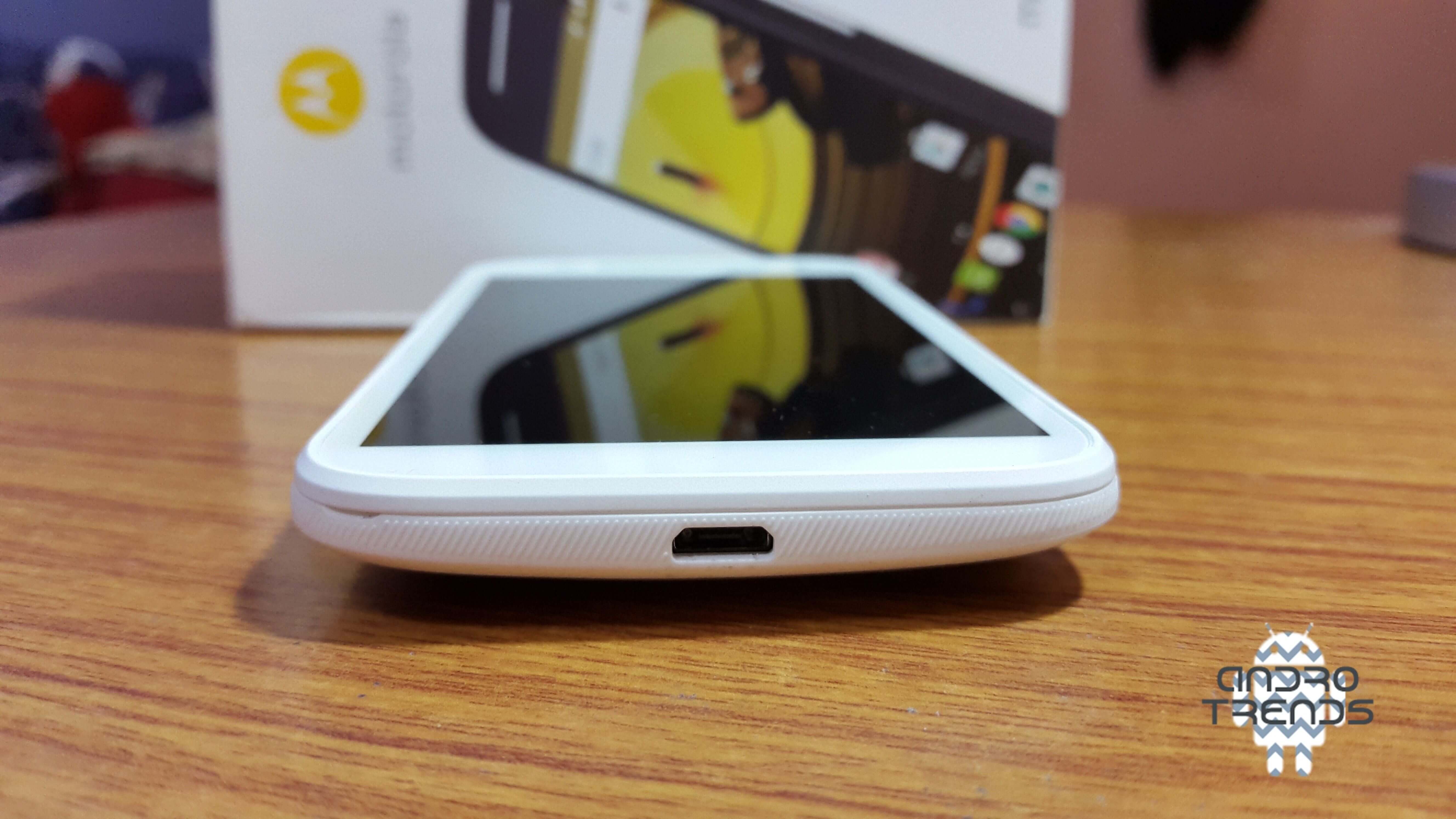 Motorola surprised the entire android community last year by launching three best in class yet budget friendly nukes :p . And this year too, the Lenovo owned company put its all in by uncovering the respective successors. The Moto E,G and the alpha dog-X had barely been out of the limelight that the company launched the second generation phones. Recently, at Mwc 2015 Motorola showcased the second gen Motorola E a.k.a E2,E+1.Which we thankfully got to review. And here it goes.
With the new upgrades and enhancements and the same witty price, does the gadget lure the consumers? Lets check it out.
DESIGN
In terms of design the successor does not vary that much. The elegant but plastic body finish rests finely in the palm, thanks to the handy 4.5 incher. Though gives a premium essence. The phone does have just one silver loudspeaker bar. With no removable back cover, the new Generation Moto E has a removable Rim which comes off to present you the Dual SIM Slots and also the MicroSD Card Slot. What we found lacking : The famous Moto maker. What we found filling the cavity : Customisable bands which cost around 20$ come in blue, turquoise , charcoal black and many other colors.
DISPLAY
Display is a disappointment, low pixel density will force you out of the HD-life we live in, featuring a resolution of 540 x 960 the screen is only 245ppi dense and the numbers seem to go against Motorola for the time being. For 4.5 inch IPS LCD screen, colours are too warm and overall the screen is dull and not so lively as Moto G's screen or even Redmi 1s, Note 4G in the same price range.  Active Display was  a surprise gift on the device, actually when using this feature you don't need to press power button to see time & notifications, you can just pick the phone up and the display will light itself up for some seconds to let you see time and notifications- if any.
PROCESSING POWER- CPU,GPU & RAM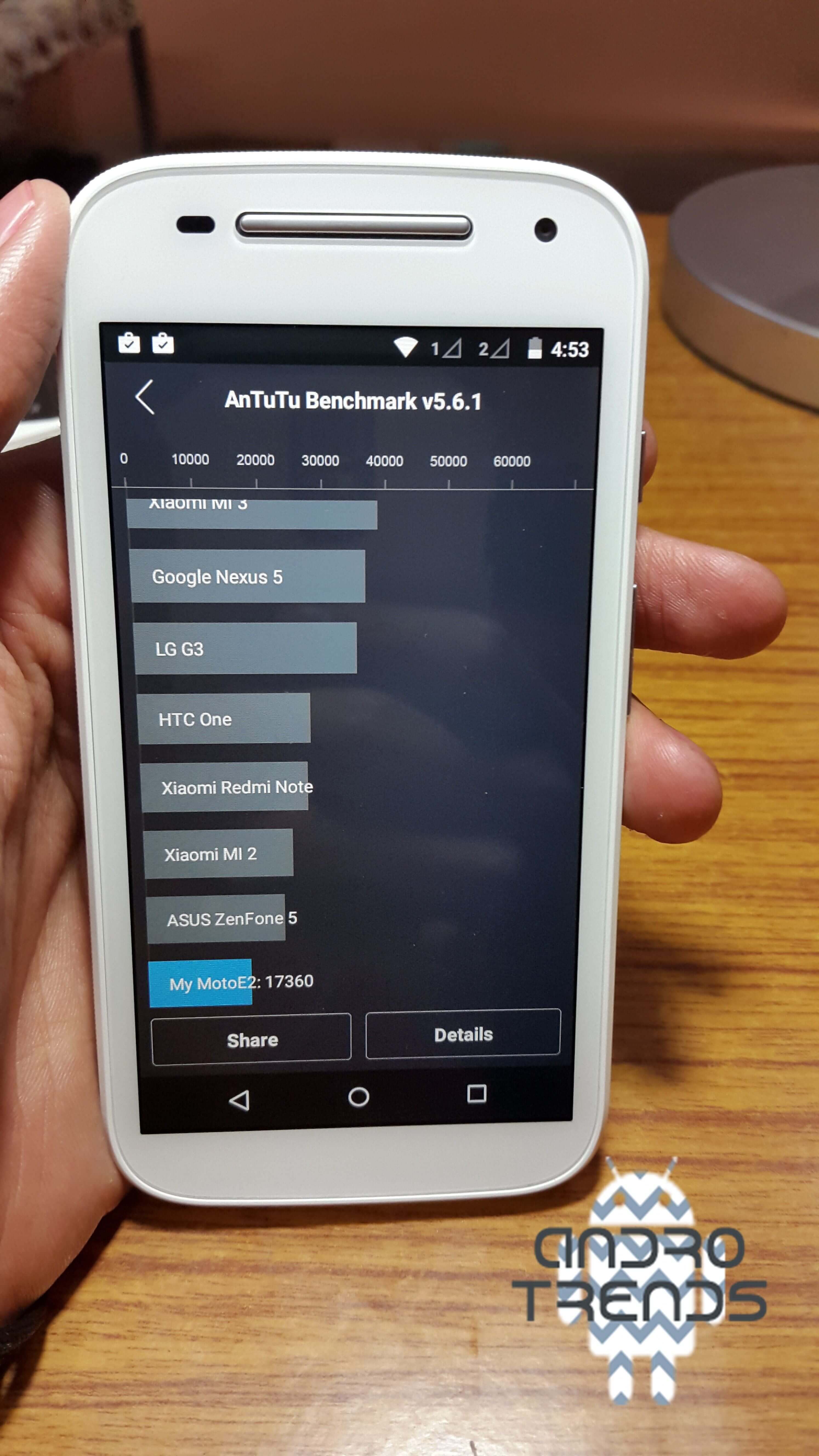 The moto E+1 runs on 1.2Ghz cortex A7 Quad core Snapdragon  200 accompanied by Adreno 302 /1.2Ghz cortex A53 Quad core Snapdragon 410 accompanied by Adreno 306 for 3G and LTE variant respectively. RAM is the same for both variants- 1GB. Benchmarking cleared the fog on the performance cloud and results were average and no serious performance can be expected out of the smartphone. Device had no problem playing HD videos, played smoothly with no frame drops.  Antutu score stood at 17k and Quadrant Standard told us the same story-9k, and with 51.2 fps on Nenamark2- the device is not a beast when it comes to performance, but in day to day life the device sure won't disappoint.
CAMERA
The Primary Camera is a 5MP, same on numbers with the previous generation device but adds Autofocus capabilities, front is a 0.3MP VGA Cam, just for the sake of camera at front.  Camera performance was really disappointing, the sensor let too much noise sneak in, the colours were oversaturated and pictures seemed low on detail and this is all for the primary, secondary is much worse. If you love taking pics and were thinking to buy the device, this device is not for you.
STORAGE
The Motorola finally understood that 4 is really a small digit and opted for 8. Which can be upgraded to 32 via MicroSD and also we tried expanding the storage by using OTG and we were not disappointed,  MOTO E left nothing unchecked on the storage checklist.
PROGRESS OVER THE PREVIOUS GENERATION
New Moto E (2015) has learnt so much from the previous generation of the device, Processor was updated to Quad Core from a dual core, screen size was increased to 4.5 inches from 4.3, also a secondary VGA camera was added for your selfie needs, battery capacity increased to 2390mAH from 1980 mAh and also a better GPU . Below will be the side by side comparison of the device (image gallery).
Comparison Moto E (2014) & MOTO E2 (2015)
CONCLUSION- MOTO E2 (2015)
This device is intended at the low-end price bracket as a budget friendly yet-power packed smartphone from motorola, and from our point of view the device is not the best your money can get, When put out to test Moto E disappointed us in every test we threw in its way. Benchmarking was average, Camera was a disaster. Battery was above average, lasted more than a day with 8% still left. The device comes from a respected name- timely updates, average after sales service and stock android experience. If you are willing to look out of the box, there are more deserving candidates, none of them actually gives you a big name but a lot better specifications and hardware -Redmi 2, Yureka YU, Redmi 1s , Xiaomi Note 4G, Asus Zenfone 5 and many other device promise. Its in your hands if you want to go for the New Moto E but our opinion says that you better not. Have some questions, or if you seem to disagree on the matter, please feel free to comment down below.